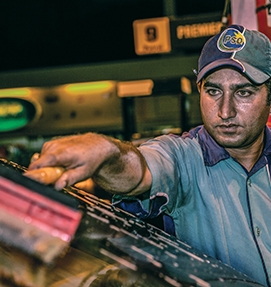 PSO caters to POL requirements of a wide spectrum of customers comprising the retail consumer, various industrial units, government, power projects, aviation and marine sectors of Pakistan. We are truly the drivers of economy of this country.
A network of 3546 retail outlets enables us to reach Pakistanis from Nagarparkar to Sost. We are proud to cater to the fuel and non fuel needs of approximately 2.8 million customers per day.

PSO industrial consumer dominance in the government sector can be judged by the fact that all the major government entities like OGDC, Pakistan Army, Pakistan railways, Navy, NLC, PAF Wah and HIT have entrusted PSO to meet their POL needs.

Besides supplying fuel to national power utilities like WAPDA and K-Electric, PSO is the sole furnace oil supplier to all Independent Power Projects (IPPs) in Pakistan with a share of over 80% in furnace oil market. Moreover, PSO is also playing its due role in meeting the growing energy demand of the country. 

PSO also supplies fuel to industrial units like textile, cement, agriculture, transport etc. Our industrial consumer base includes prestigious entities like the Presidency and the Prime Minister Secretariat, where PSO has developed consumer outlets for timely refueling of their fleets.

Furthermore, PSO also serves the fuel needs of both national & international air carriers. We also provide jet fuel into-plane refueling facilities at 9 airports of Pakistan i.e. Karachi, Lahore, Islamabad, Peshawar, Multan, Faisalabad, Turbat, Pasni and Sialkot. 

We also supply fuel to ships at Karachi Port, Korangi Fish Harbour & Port Qasim. Moreover, we cater to the fuel requirements of Pakistan Navy, Maritime Security Agency, Karachi Port Trust, PNSC, Faisal Marine Oil Services (Pvt) Ltd.