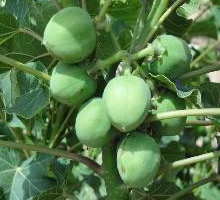 What is Biodiesel?
Biodiesel is a renewable, environment friendly substitute for petro-diesel fuel. It is produced from edible and non-edible oils and animal fats. Normally biodiesel blends can be used in diesel engines without any alteration.
 
Sources of Biodiesel:
| | |
| --- | --- |
| Edible Oil Sources | Non-Edible Oil Sources |
| Sunflower | Pongamia (Sukh Chein) |
| Soybean (USA) | Jojoba |
| Corn | Castro |
| Rapeseed | Jatropha |
| Others | Others |
PSO's Initiative:
PSO's ultimate goal is to significantly participate in blending 10% of Country's total petro-diesel consumption (8 million tonnes) with Biodiesel; in line with GOP's directives. It says, "10 % of the diesel and furnace oil consumed by Pakistan (i.e. 0.8 million tons of diesel and 0.72 million tons of Furnace Oil) is switched to Biodiesel. To achieve this target land requirement will be 1.06 Million Acres."
 
PSO's Focus:
Utilization of country's ample Marginal / Barren Land
Avoidance of competition with Food Crops
Use of Non-edible plant seeds as feed stock
Selecting Plants which needing less Water
Utilize organic fertilizers & minimize the usage of chemicals
 
Jatropha Curcas – A potential source of Biodiesel
PSO has selected Jatropha Curcas as a prospective plant candidate for bio-diesel because of its unique characteristics

Why Jatropha Curcas
Non edible
Easy to establish, grows relatively quickly, require less water
Seed contains 32-35 % Oil.
Being rich in nitrogen, the seed cake is an excellent source of organic manure.
Various parts of the plant have medicinal value.
Can withstand poor quality of soil, sustain arid environment and grow in saline conditions.
Can withstand severe heat. Likes heating and does well in warmer areas.
Require less water to grow
Like all trees, Jatropha removes carbon from the atmosphere, stores it in the woody tissues and assists in the build up of soil carbon. It is thus environment friendly. From Some source it has been found that a Jatropha tree absorbs 8 kg of CO2 every year.
It has the desired physio-chemical and performance characteristic comparable to petrodiesel. Jatropha oil has higher cetane number (51) compared to other oils, which is comparable to diesel (46 to 50) and makes it an ideal alternative fuel and requires no modification in the engine upto a certain mix ratio.