Rupees in Millions (unless noted)
2018
2017
2016
2015
2014
2013
Balance Sheet
Shareholders' Equity
110,452
102,850
91,581
82,310
78,621
60,643
Non Current Assets
24,459
22,883
68,142
65,559
58,637
57,593
Current Assets
378,104
368,560
274,174
275,749
313,514
224,356
Non-current liabilities
5,165
8,090
6,234
8,321
5,184
4,271
Current liabilities
286,945
281,504
244,501
250,676
288,346
217,035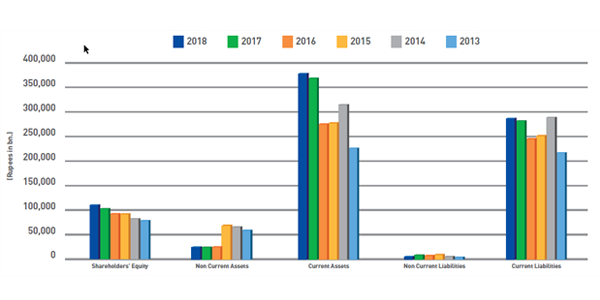 ANALYSIS OF FINANCIAL PERFORMANCE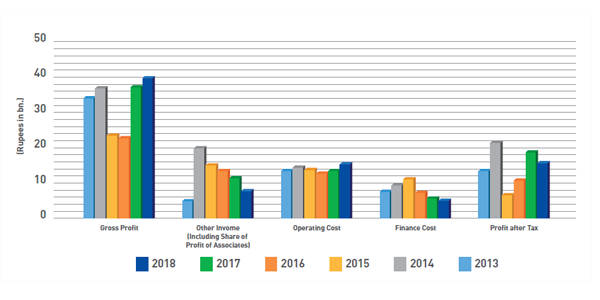 Analysis of Performance Against Prior Year
Company's profit after tax went down by 15.2% primarily on account of following elements:

- One time reversal of deferred tax asset due to decline in future corporate tax rates to 25% by FY 2023 (1% in each tax year).
- Decrease in other income by 32.7% mainly because of maturity of PIBs in July 2017 resulting in lower interest income.
- Increase in other expenses by 40.2% due to higher exchange losses on account of significant PKR devaluation during the year.

The above mentioned decrease was partially offset by increase in follwing elements:

- Increase in gross profits by 6.7% despite major decline in furnace oil sales mainly due to increase in margins of MOGAS & Jet Fuel. Moreover, higher margins were also earned on Furnace Oil and LNG due to increase in international prices.
- Decline in finance cost by 13.5% due to decline in average borrowing levels and effective treasury management.
ANALYSIS OF VARIATION IN RESULTS REPORTED IN INTERIM REPORTS
Rupees in Millions (unless noted)
Q1
Q2
Q3
Q4
FY 2018
Gross Sales
324,756
324,545
276,264
379,681
1,305,246
Gross Profit
9,190
9,540
10,182
10,724
39,636
Other Income
2,213
756
2,112
2,416
7,497
Operating Cost
(3,385)
(3,665)
(3,089)
(5,124)
(15,263)
Finance Cost
(756)
(1,023)
(1,907)
(1,437)
(5,123)
Share of profit of associate - net of tax
158
53
56
146
413
Profit Before Taxation
7,420
5,661
7,354
6,725
27,160
Taxation
(2,390)
(2,168)
(2,651)
(4,490)
(11,699)
Profit After Taxation
5,030
3,493
4,703
2,235
15,461
Gross Sales
Gross sales fell significantly in 3rd quarter primarily due to decline in upliftment of FO by power sector during the period.
Gross Profit
It remianed low in 1st and 2nd quarter primarily due to inventory losses on high speed diesel and motor gasoline. However, gross profit grew in 3rd and 4th quarter due to inventory gains on high speed diesel and furnace oil.
Other income
Other income was higher in 1st, 3rd and 4th quarter primarily due to receipt of late payment interest from power sector in these periods.
Operating Cost
Operating cost increased significantly in last quarter due to higher exchange losses in that period on account of rupee devaluation and certain provisions booked against government related claims and in respect of outsourced employees.
Finance Cost
Finance Cost went up in 3rd quarter mainly due to more proportion of local borrowing in that period and furnace oil cargo payments. Further, it was on lower side in 1st quarter primarily due to significant decline in borrowing in that period on account maturity of PIBs in July 2017.
Taxation
Significant increase in taxation in 4th quarter is due to booking of super tax charge and reversal of certain portion of deferred tax asset due to reduction in future corporate tax rates in that period. These arose due to new Finance Act announced in 4th quarter.
Summary of Cash Flow Statement with Analysis
Analysis
The variation in cash flows as compared to FY 2017 is because of the following:
Operating Activities
In FY 18 Cash flow from Operativing activities is positive as compared to negative cash flow in last year. The cash flows have increased in FY 18 primarily due to increase in trade and other payables.
Investing Activities
Cash flow from investing activities has improved significantly in FY 18 vs last year due to Maturity of PIBs in July 2017.
Financing Activities
Cash flow from Financing activities deteriorated consequential to repayment of Short term borrowings. The Company was able to repay such borrowings as it had available funds due to maturity of PIBs during the year.