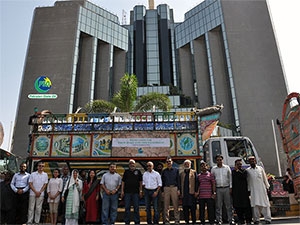 While Pakistan has unfortunately witnessed multiple natural disasters over the past few years, we take pride in the fact that PSO has proactively contributed in the humanitarian response and relief efforts and being a national company takes such actions as part of its civic duty.
Earth Quake Relief:
PSO stood with the people of Balochistan, those who had lost their beloved ones and homes due to earthquake on September 24, 2013 by arranging tents, mosquito nets, ration bags and mineral water to provide relief to affected people of District Awaran, Balouchistan.
Flood Relief:
Pakistan experienced the worst of floods of its history in August 2010 which caused immense damage to life and property and left millions homeless. Pakistan State Oil responded to the needs of the people in the time of need and established a tent village at Makli, Thatta, provided cooked food and distributed relief items which included ration bags, tents, blankets and biscuits.
Monsoon Rains:
In September 2011, heavy monsoon rains affected millions in many districts of Sindh. In order to provide relief, PSO:
Distributed ration bags, blankets and mineral water to over 2000+ people.
Set up three (03) free medical camps for treatment of hundreds of ailments/medical complaints.
Provided free of cost medicines for treatment of ailments by PSO.
Cyclone Relief:
The 2007 Cyclone that lashed Pakistan's southern coast crippled life in the affected areas especially in Balochistan. PSO as a good corporate citizen as always was at the forefront of relief operations and provided:
Two convoys comprising three truckloads of relief goods for Turbat and two truckloads for Pasni.
Theseconvoys carried 3,000 food packets, 500 kitchen utensils, 650 tarpaulin sheets and 30,000 bottles of mineral water.
PSO also dispatched a similar batch of food packets and mineral water to Greshia, 35 km from Khuzdar which was the first relief convoy to reach this devastated village.