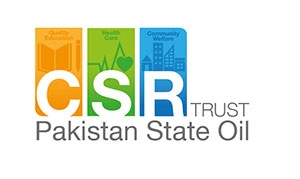 Pakistan State Oil is committed to playing an active role in supporting and working with its stakeholders for sustainable community and social development of Pakistan. With our talented team and national standing as Pakistan's leading oil marketing company, we aim to help drive creation of shared economic and social value across Pakistan.
Corporate Social Responsibility (CSR) is one of PSO's core values and an integral part of the Company's overall mission. With operations across the country, PSO utilizes its scale of operations as a strength to positively impact the underprivileged people nationwide especially in the vicinities where PSO operates. By integrating CSR into our business strategy, PSO is helping to drive shared value amongst its stakeholders and enhance its corporate brand image amongst the general public.
Our Focus Areas
PSO's CSR commitments include focus on four main areas namely:
About CSR Reporting
As part of its reporting standards, PSO publishes key facts regarding its focus areas and CSR activities through:
Activities regarding CSR activities in the relevant fiscal years are outlined in the company's Annual Financial Reports
Email requests for donation should be send by email at:
To apply for funds through PSO CSR Trust, refer PSO CSR Trust Grant Application Form and Document Checklist:
Information/documents required duly signed and on letterhead (where applicable):
Proposal stating the amount and specific purpose
Breakdown of amount of donation solicited
Valid Registration Certificate
Valid Tax exemption certificate
Audit/financial report/Annual Report (latest and of past two years)
PCP Certificate (If applicable)
List of names of Directors/Trustees along with their CNIC details
Organization profile, geographical areas covered, pictures
Details of the project (where the donation will be used etc)
In case of equipment - 03 latest quotations etc. or In case of other requests - cost of support per patient/student/operation etc as per nature of the proposal
Why PSO should donate to your organization?
List of other projects undertaken by the organization
List of other sponsors
Fund Utilization report, with pictures if applicable, if previously supported by PSO
Duly filled PSO CSR Trust Grant Application form
Duly signed and stamped NACTA Undertaking by one of the senior most officers/trustees, founders, as the case may be, on organization's official letterhead along with CNIC copy of individual signing.

Incomplete application will not be entertained.
Disclaimer: Submitting required documents for PSO CSR Trust's review and record does not guarantee approval of your proposal by PSO CSR Trust.