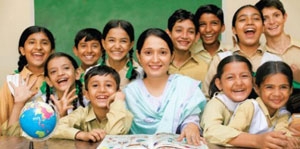 A basic need of society, education has a strong correlation with social and economic development and reduces poverty and social injustice by providing resources and opportunities to the underprivileged for upward socio-economic mobility. We at PSO seek to promote education amongst the underprivileged of the society as learning remains the only tool that ensures sustainable human development.
During FY15, PSO undertook a wide range of initiatives to support several educational programsincluding:
Partnering with The Citizens Foundation (TCF), the leading education based NGO in Pakistan for the education of 125 children hailing from all provinces of the country.
Working for elimination of child labor, we worked with Zindagi Trust and Child Care Foundation to take 520 children off the streets and into classrooms and provide them with education.
Three deserving students from IBA and four students from Institute of Business Management's outreach program were provided scholarships as part of our efforts to promote professional education.
PSO also worked with Aman foundation to provide internationally certified vocational trainings to six deserving candidates while over 200 children hailing from needy backgrounds were provided nutritionally balanced meals.
The Company also extended support to other educational organizations during the year.