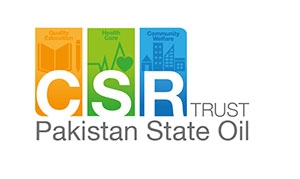 Pakistan State Oil is committed to playing an active role in supporting and working with its stakeholders forsustainable community and social development of Pakistan. With our talented team and national standing as Pakistan's leading oil marketing company, we aim to help drive creation of shared economic and social value across Pakistan.
Corporate Social Responsibility (CSR) is one of PSO's core values and an integral part of the Company's overall mission. With operations across the country, PSO's utilizes its scale of operations as a strength to positively impact the underprivileged people nationwide especially in the vicinities where PSO operates. By integrating CSR into our business strategy, PSO is helping to drive shared value amongst its stakeholders and enhance its corporate brand image amongst the general public.
Our Focus Areas
PSO's CSR commitments includefocus on four main areas namely:
About CSR Reporting
As part of its reporting standards, PSO publishes key facts regarding its focus areas and CSR activities through:
Placement on the corporate website and its social media platforms 
Activities regarding CSR activities in the relevant fiscal years are outlined in the company's Annual Financial Reports
In order to update disclosure information rapidly to the general public, PSO is disclosing its CSR activities mainly on this website.
Email requests for donation to: